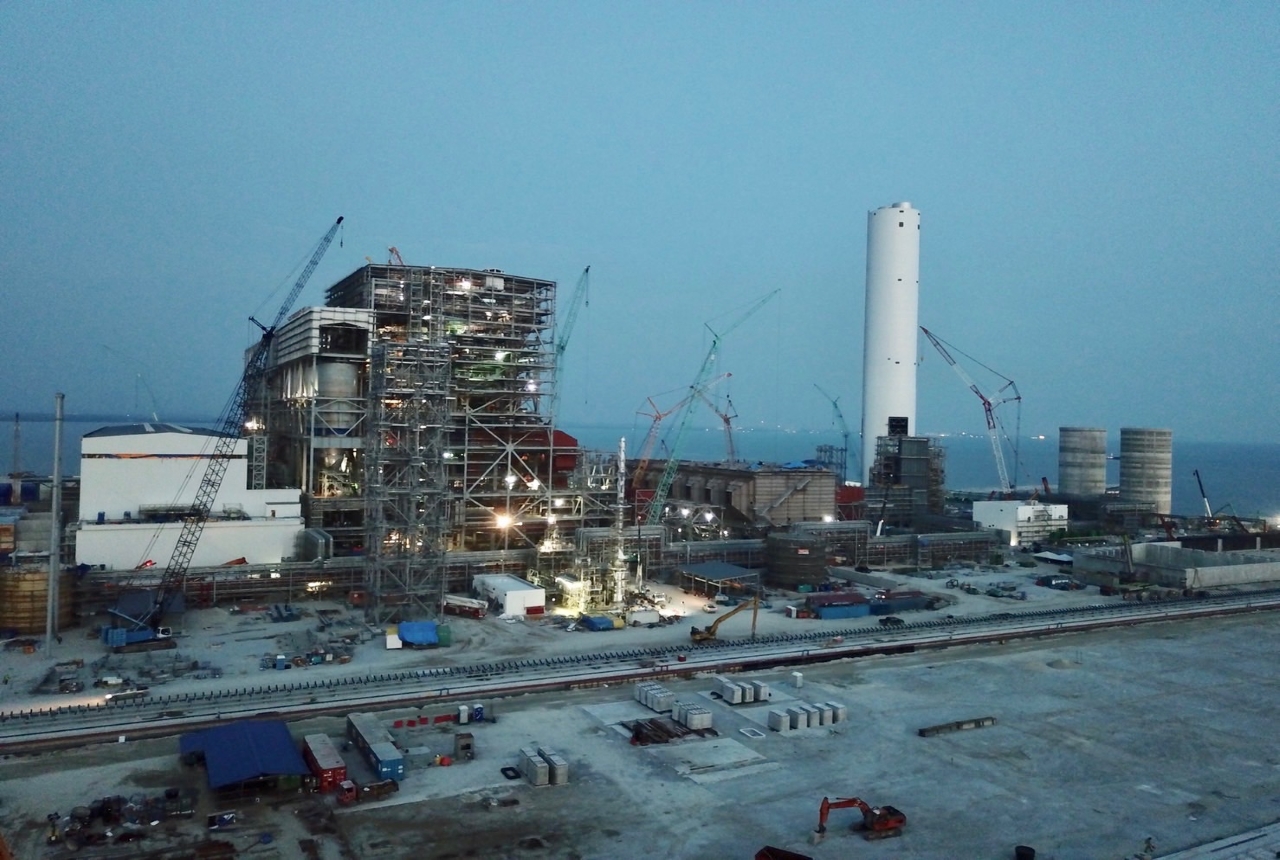 Background
Jimah east power station, also known as the project 3B, is a 2,000 megawatt (MW) coal-fired power station in Jimah, Malaysia. The RM12 billion plant comprises two units of 1,000 MW USC coal-fired power plant, with unit 1 scheduled to start commercial operation in June 2019 and unit 2 in December 2019. The plant is key to the security of power supply in Peninsula Malaysia and its power will be sold to electric power company Tenaga Nasional Berhad (TNB) under a 25-year power purchase agreement. A consortium of Toshiba Corporation, IHI Corporation, Hyundai Engineering Co.,Ltd. and Hyundai Engineering & Construction Co.,Ltd. was awarded an engineering, procurement and construction contract for this project by Jimah East Power in September 2014.
Operating Process
The 2,000 MW ultra-supercritical coal-fired power plant will feature two greenfield power units at the Port Dickson strategic site, which is to be a crucial to the security of power supply in Peninsula Malaysia.
A typical new ultra-supercritical plant will achieve around 44 per cent thermal efficiency (designs going up to 47 percent are being developed) meaning that 44 per cent of the thermal energy contained in the fuel is converted into electrical energy fed into the grid as compare to subcritical power plants which operate at around 38% thermal efficiency.
The difference between subcritical and ultra-supercritical technology is that the total amount of flue gas emitted from the ultra-supercritical plant is about 14 per cent smaller, and hence the capacity of the SO2 control device can be about 14 per cent lower, resulting in savings in investment and operating costs. Resulting SO2 emissions associated with a given emission standard will also be about 14 per cent lower.
Special Requirements
The flue gas desulphurization process contains corrosive materials, especially sulphur dioxide, which is highly corrosive when exposed to moisture and forms concentrated sulphuric acid. In such a highly corrosive environment construction materials and structures need to be protected to ensure their longevity.
Corrosion / Wear Protection
As asset owner of JEP specified a very high standard of corrosion protection which exhibits a high degree of resistance against exposure to chemical, thermal and mechanical stresses. JEP also set a similar high standard requirement for the application of these materials by requiring that it to be applied by a specialist contractor with an excellent track record and many years of experience in similar applications. Trepax matched the criteria and were successful in their bid submission and proposals to GE Power.
System Specification
High temperature grade vinyl ester was specified for the internal surfaces of the FGD steel ducting, gas gas heaters (GGH) and concrete absorbers.
Project Details
Location

Port Dickson, Malaysia

Project

Jimah East Power Plant

Owner

Jimah East Power Sdn Bhd

EPC

GE Power Services (Malaysia) Sdn

Date

2017 – 2018

Work

FGD Steel Ducting, Gas Gas Heaters (GGH) and Concrete Absorbers

System

Flake Lining

Area

15,000 m

2

Value

US$ 2,500,000