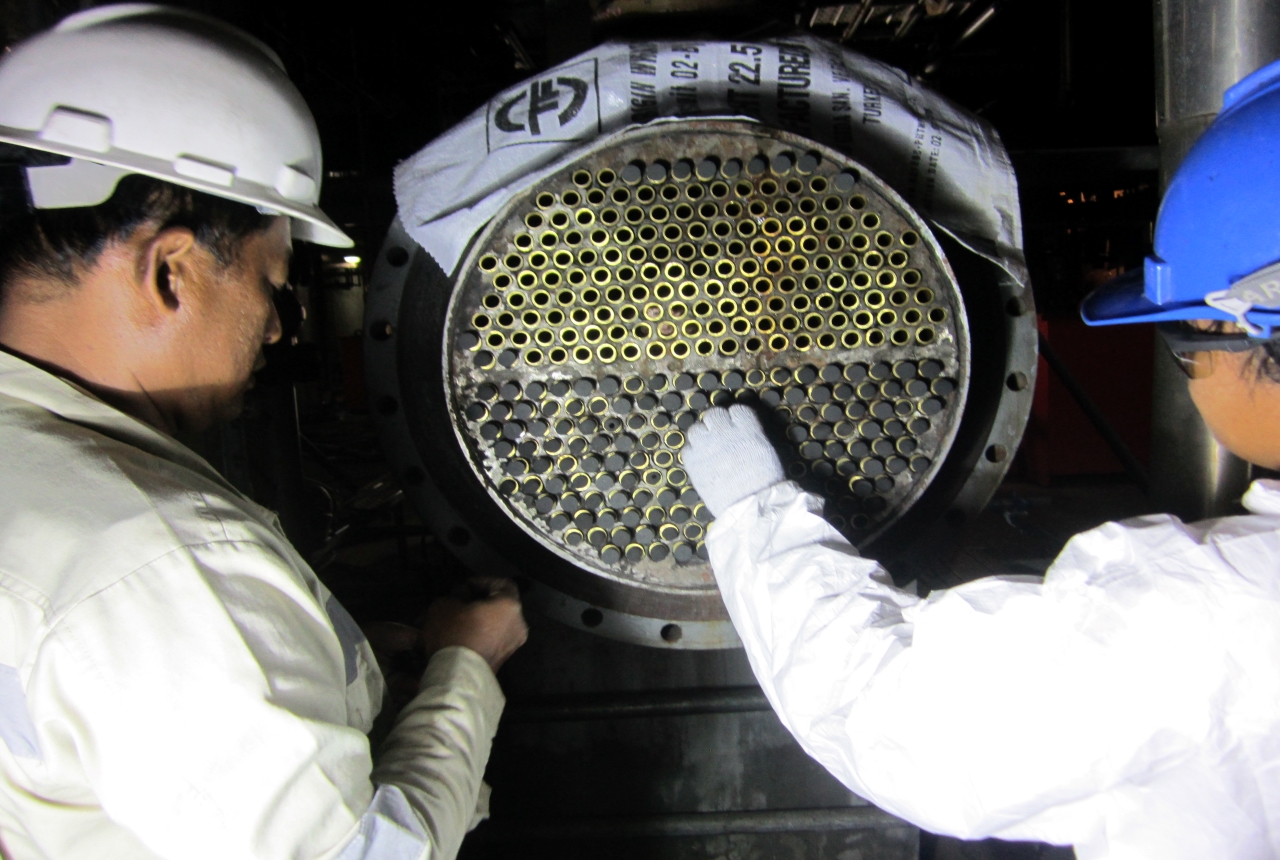 Background
Bangchak Corporation Public Company Limited is a Thai energy company engaging in business alongside social and environmental stewardship. Its core business – petroleum refining – spans procurement of crude oil from domestic and overseas sources and refining it into various standard products. With a current production capacity of 120,000 barrels per day, Bangchak distributes its refined products to over 1,000 retail stations around Thailand.
Operating Process
A heat exchanger is a device used to transfer heat between two or more fluids. In other words, heat exchangers are used in both cooling and heating processes. The fluids may be separated by a solid wall to prevent mixing or they may be in direct contact. They are widely used in power stations, chemical plants, petrochemical plants, petroleum refineries. The design using dissimilar metals causes issues with galvanic corrosion, this issue then requires the use of coatings to reduce the problem of galvanic corrosion from taking place.
Special Requirements
Trepax are requested to rebuild and recoat corroded heat exchanger component parts.
Corrosion / Wear Protection
Corrosion, erosion & Galvanic corrosion are key parts of the deterioration of the metal surfaces within a Heat Exchanger system. With the Tubes and Tube sheets being manufactured of different metals, this creates an accelerated galvanic corrosive cell. This can be greatly reduced if the correct specification is provided and coating process is carried out. This requires the use of 2-part metal filled paste grade epoxies to rebuild any metal loss and pitting, then the use of 2-part ceramic filled fluid grade epoxies to coat all components in the wet areas of the Heat exchanger. Note the internals of the tubes are not coated as this would reduce the efficiency of the exchanger.
System Specification
1. Cleaning of Heat Exchanger
2. Corking all tubes
3. Blasting of all surfaces that require coating
4. Cork removal and re-corking with new corks
5. Rebuild areas with metal loss using 2-part metal filled paste grade epoxy
6. Coating with 2-part ceramic filled fluid grade epoxy.
The system is designed to upgrade the performance of conventional materials of construction and in particular to protect equipment against erosion/corrosion at elevated temperatures. The coating once fully cured is capable of withstanding immersed temperatures up to 130°C (265°F) in continuous service.
Project Details
Location

Bangkok, Thailand

Project

Heat Exchanger Tube Sheet, End Cover & Water Box Protective Coating

Owner

Bangchak Corporation Public Company Limited

EPC

Bangchak Corporation Public Company Limited

Date

2018

Work

Ceramic HT Fluid Protective Coating

System

Heat Exchanger Rebuild & Protective Coating

Area

37 m

2

Value

US$ 44,100